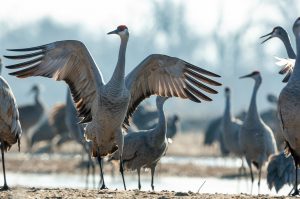 Go bird Nebraska
Wherever you are in Nebraska, amazing birding is not far away. Explore the eastern tallgrass prairie, the Central Platte Valley where over a half a million Sandhill Cranes congregate each spring, the Sandhills where Greater Prairie-Chickens display, and the shortgrass prairie and unique topography in the west. Use this site to discover more than 75 public-access locations to help you reach your birding life list goals.
Explore our site.
Top Birding Sites
Find our top 20 recommendations for places to find unique bird species in Nebraska's diverse habitat in the east, the west and every place in between.
Notable Species
Nebraska is known for certain bird species, such as Sandhill Cranes, Greater Prairie-Chickens, Burrowing Owls and Long-billed Curlews.
Ecological regions
Nebraska has four ecological regions attractive to birds: tallgrass prairie, mixed-grass prairie, the Sandhills, and shortgrass prairie.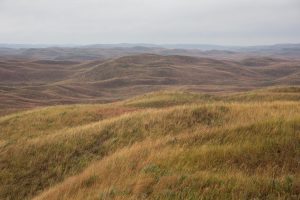 About us
We're a collaborative group of conservationists, ecologists and bird enthusiasts with the Nebraska Game and Parks Commission, working to grow resources for birders across the state and country.
Resources
Whether you are an expert or just starting out, these tips will enhance your birding experience.
Creating a bird-friendly backyard is an easy way to enjoy birds daily and hone your bird ID skills.
When life is too busy to get out and explore, watch these species from the comfort of your own home.
Come to Nebraska
You came to see the Sandhill Cranes, but you're staying to see the Greater Prairie-Chickens, Burrowing Owls, Long-billed Curlews and dozens of other species your state just doesn't offer. Find everything you need to know about your stay.
Nebraska is a very cool place to come and see a wide range of birds. The landscape and climate are so varied from east to west that it offers habitat for a variety of eastern and western species. You'll need both Sibley's Guide West and East here.

Shawna Richter-Ryerson
Watching the Sandhill Crane migration in Nebraska is an incredible experience. But so is seeing Greater Prairie-Chickens and Burrowing Owls in their natural habitats. Birders can check a number of must-see birding wonders off their list with a visit to the state.

Olivia DaRugna