How to start birding
Viewing birds can be thrilling in Nebraska whether it is viewing a bright red Summer Tanager singing in the top of a tree in the eastern woodlands, large flocks of Sandhill Cranes and waterfowl in the central region, or being awestruck by the sheer power and large wingspan of the Golden Eagle in the western part of the state. Whether you are an expert birder or just starting out, here are some helpful tips to enhance your birding experience.
Plan your birding adventure
Whether planning a short, local outing or a multiday birding trip, use the Nebraska Birding Guide's interactive map, ecological regions, or notable Nebraska birds to help you decide where to bird. Use the coordinates for each site to take you to parking areas, trailheads, and other locations at the birding sites. Before you go, consider the season, look up local species occurrences, check the weather, pack all the essentials (gear, sunscreen, water, snacks, insect-repellent, etc.), and wear proper clothing and footwear for the terrain.
Get out there and practice
Start early in the mornings when most birds are active and singing. Be patient, quiet, and observant to have the best opportunities for viewing those shy, quiet species and to prevent scaring other birds. Take a moment to soak in your surroundings, notice the different habitats, exposed perches, view the sky for flyovers, and listen. Often you will hear a bird before you see it. Start by becoming familiar with the birds in your backyard or local greenspace.
Consider joining a bird club or organization and go birding with experienced birders during the organized field trips and meetings. See the bottom of the Resources page for links to Nebraska Bird Organizations, chapters, and clubs across the state.
Observe characteristics
Birds come in all shapes and sizes. Start by looking at the size relative to birds you already are familiar with such as tiny House Wrens to large Bald Eagles. Look at the shape; is it similar to a songbird, shorebird, duck, or raptor? Notice the shape and size of the beak and legs.
Spend time observing a bird's behavior and the habitat they are in. Is the bird perching in the top of a tree that is in the middle of the woods? Is the bird foraging with a flock in a plowed field?
Become familiar with body parts and the common field marks on birds, such as wingbars, eye-rings and eye-stripe. Take note of the different colors on the body such as a yellow chest, white belly and brown back. These different markings and colors can help narrow down what species you are viewing.
Be respectful
Don't harm or stress birds, leave nests alone, respect other birders, respect property boundaries. Pack out what you pack in.
Equipment
Binoculars
Binoculars are essential and come in a variety of sizes and prices. Many birders prefer 8×42 binoculars. The first number is the magnification and the second number is the size of the objective lens. The larger the objective lens, the more light that is let in making an image clearer.
The price of binoculars can range from $20 to thousands of dollars. A solid pair of binoculars typically start around $200 and are waterproof and nitrogen purged, meaning they don't fog up in humid conditions. Investing in a quality pair of binoculars can reduce eyestrain, increase your ability to view field marks on birds, and improve your overall birding experience.
See Audubon's guide to choosing binoculars or visit a local retailer to help you select the right pair for your needs.
How to use binoculars
There are a few steps to follow to adjust binoculars for a clear image of birds. Once the binocular settings are adjusted for your eyes you can locate birds with more ease. Click here to read the great tips and tutorials for using binoculars from Bird Watcher's Digest.
Spotting Scope
Spotting scopes resemble telescopes and are often mounted on a tripod or car window. They are beneficial for viewing distant birds on large bodies of water, shorebirds in an open field or along a beach, and distant raptor nests. See Audubon's guide to choosing a spotting scope for more information.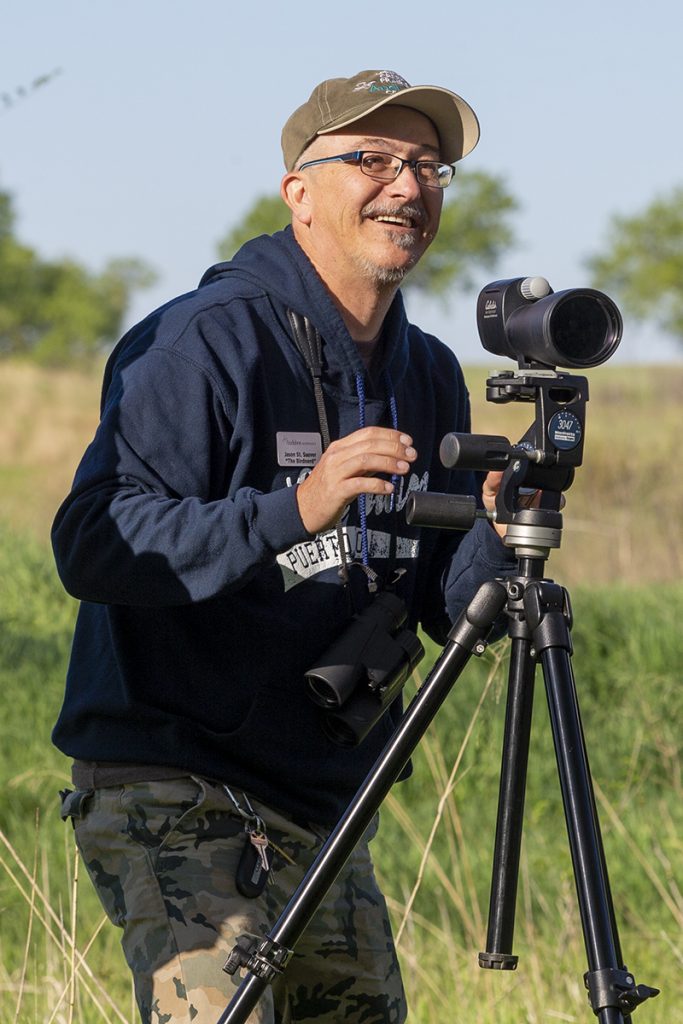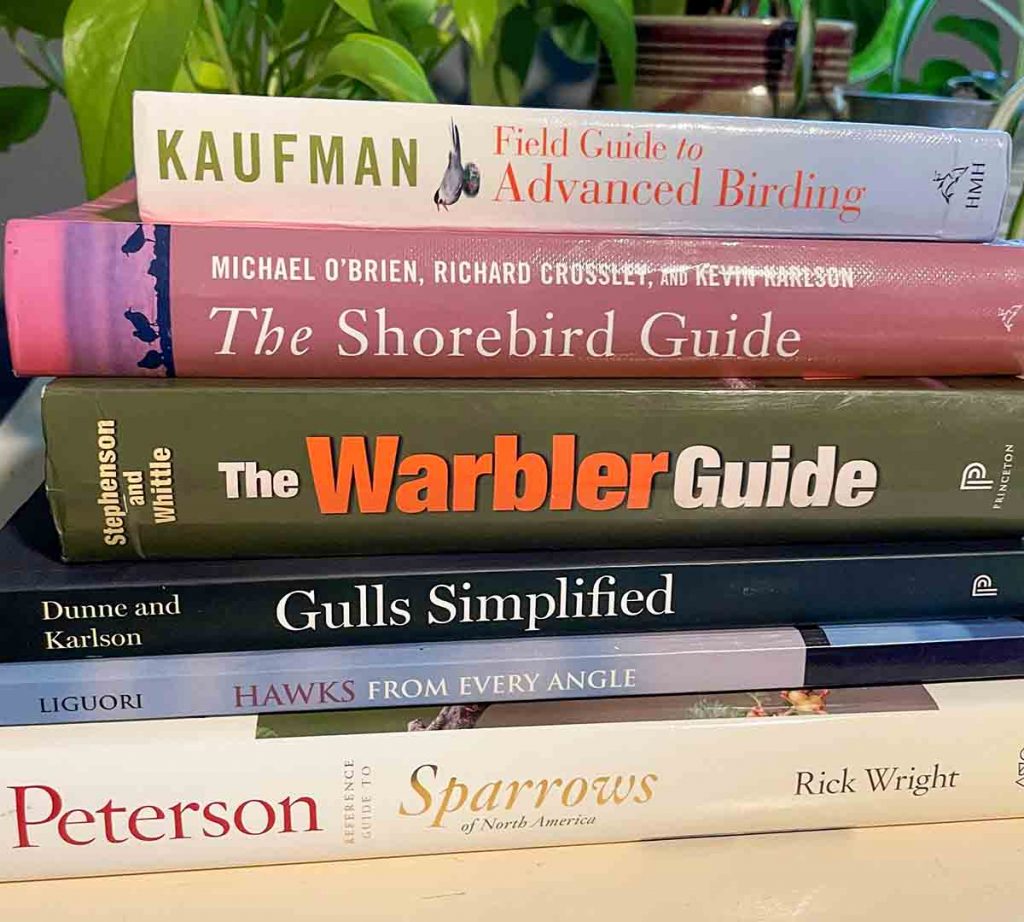 Field Guides
Field guides, whether books or apps, are essential for learning and identifying birds. There are a variety of field guides to choose from and can be photo or illustration-based images and arranged by colors or taxonomy. Select a field guide and becoming familiar with it to improve your birding experience. Nebraska has both eastern and western North American species, so selecting a field guide based on which region you will be birding in or selecting a guide that encompasses all of North America is essential.
For beginners or backyard bird watchers, selecting a guide arranged by color may be the easiest, such as the Birds of Nebraska Field Guide by Stan Tekiela.
Taxonomically-arranged field guides include photo-based guides like Kaufman Field Guide to Birds of North America and National Audubon Society Birds of North America or illustration-based field guides like The Sibley Field Guide to Birds of North America, Peterson Field Guide to Birds North America, and National Geographic Field Guide to the Birds of North America. Many of these field guides have smaller options available that feature only eastern or western North American species.
Additionally, there are field guides to help advance your identification skills for specific taxonomic groups, such as raptors, shorebirds, warblers, gulls, and others groups.
Apps
Mobile apps are also a great option especially in central Nebraska where carrying a large field guide of both eastern and western species can get heavy. Apps often include the bird songs and calls, which can be useful for confirming a bird ID.
From the Cornell Lab of Ornithology, this app is free, instant bird ID help for 5,500+ birds for North and South America, Europe, Asia, and Australia.
---
The Audubon Bird Guide is a free and complete field guide to over 800 species of North American birds, right in your pocket.
The Sibley Guide to Birds — the most popular and comprehensive printed field guide to North American birds — is available in digital form as an app for several mobile phone platforms.
---
Larkwire is a complete, customizable, game-based learning system for mastering bird sounds.
eBird
eBird is a community science platform that allows you to keep track of the birds you hear or see, explore bird observations from locations all over the world, and the bird observations are used in bird science and conservation research.
eBird is used for the Nebraska Birding Bowl, a month long birding competition for all skill-levels during Nebraska Bird Month. The tutorials below were created for the Birding Bowl, but much of the information and steps is applicable for using eBird at any time.
Recorded eBird Tutorial webinar for the Nebraska Birding Bowl and beyond.
The guide covers:
Creating an eBird account.
Submitting eBird checklists via the mobile app or the website.
Sharing checklists with others you are birding with.
Creating Trip Reports.
Adding your Yard Location.